What is new in SimplyFile version 3
Overview
Thank you for your interest in SimplyFile 3.0. This release introduces a number of new powerful features and usability enhancements that make your trusted Inbox helper, SimplyFile, even more useful and effective.
Outlook Ribbon UI support
We have completely redesigned user interface to support Ribbon UI in Outlook 2010 and 2013. (Note: If you are using an older version of Outlook, you will see the old-style UI). All the commonly used features are accessible right on the Home tab of the main Outlook window. You can also specify which buttons you would like to see on the Toolbar tab of the Options window.


The first large button displays the top suggested folder for a given message. Be sure to train SimplyFile to optimize folder suggestion accuracy. After that you'll be able to file the vast majority of messages by simply clicking this button.
The "File In" drop-down provides access to the rest of the suggested folders, as well as to the QuickPick window.
And for you, keyboard ninjas, do not forget that you can customize SimplyFile hotkeys in the Options dialog for mouse-free operation.
File Thread and Sender commands
"File Thread" and "File Sender" commands are now available as buttons on the main SimplyFile toolbar. "File Thread" will find all messages with the same subject in the current folder and file them into the folder you specify. "File Sender" will file all messages from the selected sender. When using Outlook 2010 or newer, these commands will also offer folder drop-down for quick access to recommended folders.
Go to Folder command
"Go to Folder" button is now available on the main SimplyFile toolbar for easy access.
Batch File - the biggest time saver
By now you know that SimplyFile's "File Message", "File Thread", "QuickPick" and the other commands let you file an Inbox full of messages in no time at all. You've trained SimplyFile well and it suggests the right folder for the vast majority of messages. With one, maybe two, seconds per message, you can go through and file 100 messages in just a few minutes. That's pretty impressive! We asked ourselves "can we top that?", and came up with a new experimental feature - "Batch File".
Batch File files messages into their respective suggested folders. You highlight a batch of messages in the main Outlook window (or do not highlight any messages to use all messages in the current folder). Then click "Batch File". It will show you a window that lists all messages and top the suggested folder for each message. Review the list, uncheck any messages you do not want filed. Then click "File Messages". All selected messages will be filed in one fell swoop.
Of course, Batch File is not appropriate for every occasion. Do not forget about the other filing features and use the best one in a given situation. Also, be sure to train SimplyFile well before using Batch File.
Hopefully Batch File will make SimplyFile even more invaluable to you. We are looking forward to your feedback on this feature.
Context menu support
With Outlook 2010 or newer, the "File In" command is available on the context menu, displayed when you right-click on a message in your Inbox.
Send and File original handling
We have streamlined the way SimplyFile handles filing original messages at the same time as filing replies. In this version, there is a separate "Send, Send and File Original" button on the "File the message you are sending window". So you can click either "Send and File" or "Send, File and File Original", depending on how you would like to handle a particular message. You can specify which of the two buttons should be the default action, by selecting the corresponding setting on the Advanced tab of the Option window. After that, you can simply hit "Enter" in the "File the message you are sending" window to invoke the default command.
New Snooze options
The SnoozeIt command has been enhanced to allow specifying the unsnooze time, in addition to specifying for how long you would like to snooze a particular message.
Streamlined installer
Starting with version 3.0, SimplyFile will not have a separate full vs. evaluation version installers. There is just one installer. You can use it for a trial; and later you can activate it with by entering a license key.
Lots of small usability enhancements
We have implemented a large number of small usability enhancements. You will notice things like easier way to file an original message when filing a reply; if you file multiple messages together, "Undo File" will move them back together in one operation, etc; additional keyboard shortcuts. There are other smaller tweaks. We do pay attention to little details because we know that they make a huge difference.
Statistics
The statistics feature displays your SimplyFile usage charts. Hopefully this statistics will help you gain a bit of insight into how you spend you days. There are two graphs available.
Number of messages you filed on a given day
It shows the number of received and sent messages you have filed, as well as the number of messages in your Inbox. You can zoom into a specific time period, by selecting it with your mouse. You can also control which statistics you would like to plot on the chart.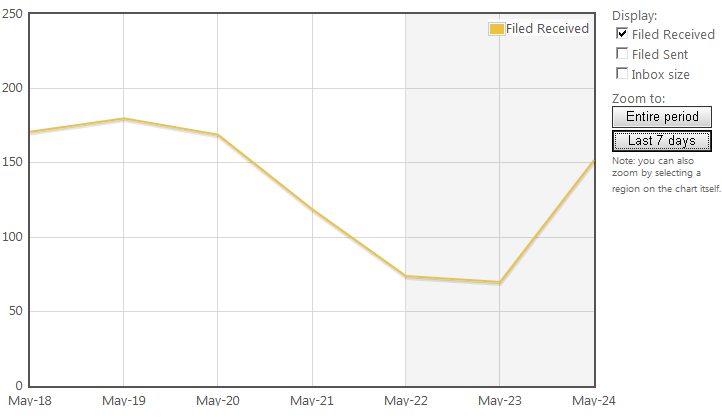 Number of messages filed by time of day
This interesting chart will show your filing activity by time of day. For example, the chart below shows that this particular user files most messages between 8am and 10am in the morning.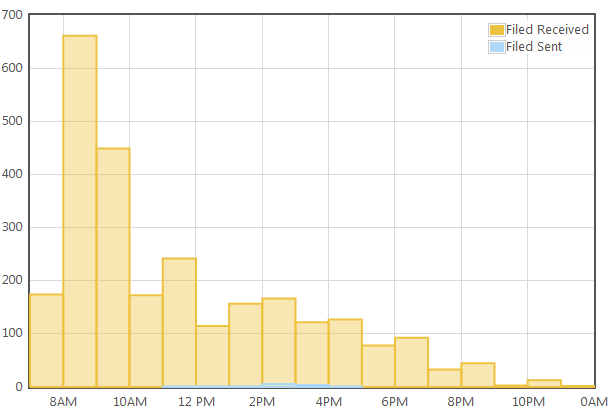 Known issues
Outlook 2010 appears to have a bug in handling Gmail IMAP folders. We do not recommend using SimplyFile (any version) with Outlook 2010 running with a GMail IMAP account.
SimplyFile your Inbox, simplify your life! Thank you for using SimplyFile!