Outlook does not have a built-in "Save As PDF" feature. That is one of the reasons why we created MessageSave. Download MessageSave to easily save Outlook email messages in PDF format.
With MessageSave PDF support you can
Save Outlook email messages in PDF format.
Save one or multiple messages in one operation.
Save entire folder tree, maintaining folder structure.
Automatically rename - flexible naming options.
Preserve email timestamps.
AutoSave with a scheduler.
MessageSave is highly optimized for speed and size.
Much more!
Save Outlook email messages:

As PDF files: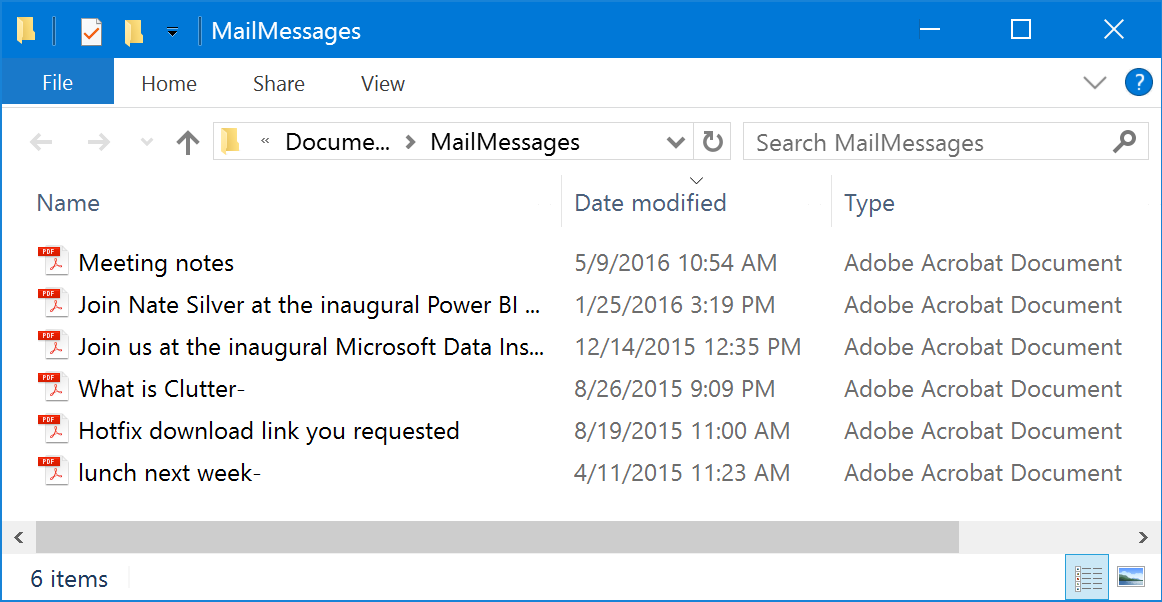 Save Outlook email in PDF format in just a few clicks
Select one or more messages which you would like to convert to PDF.
Click on the "MessageSave" button.
Select the destination folder.
Click "Save Now".
In addition to PDF, MessageSave supports saving messages in MSG, TXT, EML, HTML, and MBOX formats.
Need to save attachments? Try EZDetach.
One-time setup
If you just installed MessageSave and the messages are saved in MSG format, rather than PDF, please follow these steps. They only need to be performed once. The setting will be remembered for the future.
Click "More>>" to see the expanded version of the MessageSave window.
Click "Select File Format".
Select "PDF" in the "File Format" field.