Main QuickJump window¶
The main QuickJump window is designed to help you find any Windows folder with just a few keystrokes.
When you find a folder, you can:
Open it in Windows Explorer.
Change folder in a "File Open" or "Save As" dialog of most Windows Applications.
Copy the path to the Clipboard.
Run

Custom Commands

on that folder.
Advanced: Send path as text to a console application, so you can use it in a shell command.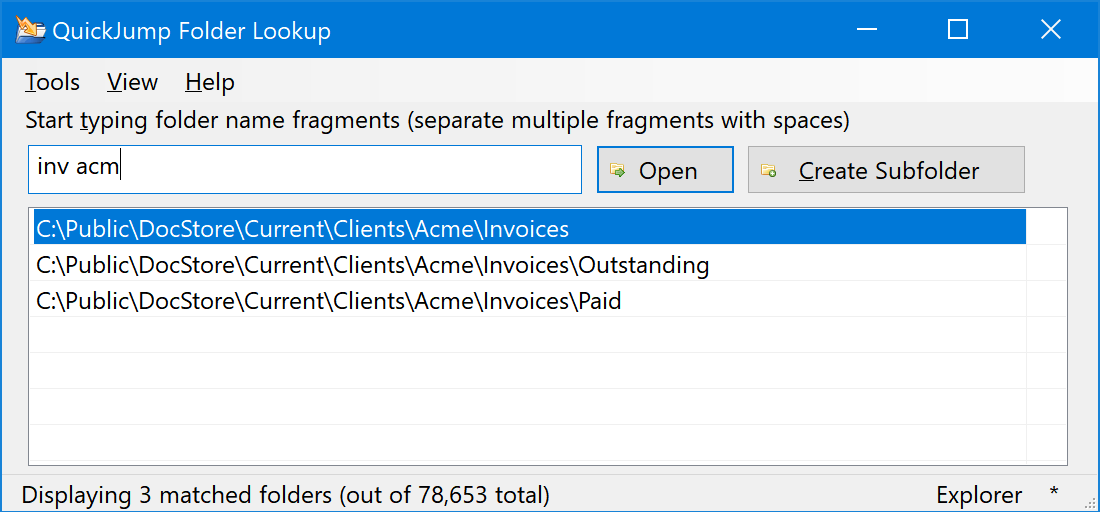 Advanced folder filtering operators¶
QuickJump supports the following search operators to perform more advanced filtering. Operators prefix a search term with a special token, such as not: or name:.
Exclude operator (not:)¶
Prefix a search term with not: to exclude folders from the list.
For example, clients not:archived shows all folders which include the word clients, but not archived in the folder path.
Name-only match operator (name:)¶
Prefix a search term with name: to match only the folder name itself and not its path.
For example, name:clients would match M:\Docs\Clients, but not M:\Docs\Clients\Acme.