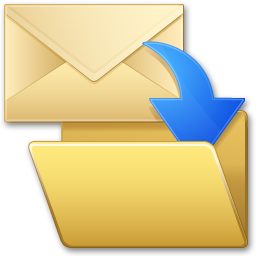 Do you have too many messages in your Inbox?
Do you feel that it takes too much effort to organize and manage your email?
SimplyFile will help you clean up your Inbox and keep it nice and small. File Outlook email messages to the right folders with one click. Easily turn messages into Tasks and Appointments.
Save at least 30 minutes per week - Download SimplyFile today.
What SimplyFile does
Files messages to the right Outlook folder with one click of a mouse learn more ».
Feel in control of your Outlook Inbox learn more ».
Spend less time filing email learn more ».
Save at least 30 minutes per week learn more ».
Organize sent messages as you are sending them learn more ».
Batch File a group of messages into their respective folders in one fell swoop learn more ».
Uses an advanced algorithm to learn and adapt to your filing habits.
No configuration wizards, no manual setup, no rules to maintain. It just works!
Works on sent and received messages.
Works on individual mailboxes and Public Folders.
Highly optimized for speed and size.
Supports fast keyboard-only operation.
Removes Outlook's "New Mail" icon when filing a message
(small things like that make a huge difference in usability).
Turn messages into Tasks and Appointments with one click of a mouse.
Easily convert HTML messages to plain text format.
SimplyFile System Requirements
Windows 7, 8, 8.1, 10, 2008 R2, 2012 R2 (64 and 32 bit) with the latest Service Pack.
Outlook 2007, 2010, 2013, 2016 (64 and 32 bit) with the latest Service Pack.
SimplyFile does NOT work with Outlook Express.
Due to issues with the Google Apps Sync, it is not supported.
Using Outlook with Gmail via IMAP? Read this first.
How SimplyFile works
SimplyFile is an intelligent filing assistant for Microsoft Outlook. It helps you file email messages in your Outlook folders quickly and efficiently. Due to SimplyFile's advanced folder prediction technology, one click of a button is all it takes to send a message to the right folder! SimplyFile includes an advanced algorithm, which quickly learns about your filing habits and then starts to predict where you will want to move every message. So after you train SimplyFile for a bit, filing a message to the right folder becomes literally one click - much faster than drag and drop.
If you tried to sort messages into various folders with rules, you know that rules can become complicated and hard to maintain once you have more than a dozen of them. SimplyFile does not require you to maintain any rules. Its algorithm keeps track of messages and folders and does all the work for you. Try it for yourself and you will be pleasantly surprised by how accurate it is! Download SimplyFile today. After a few hours of use, you will be hooked on it. After a few days, you will wonder how you ever lived without it!
If you are looking for a way to save messages to a file system folder, as opposed to filing it in an Outlook folder, we have a product that does that too - MessageSave.
Give us your feedback
SimplyFile is a great Inbox organization tool. It will save you a significant amount of time every week . More importantly, it will give you a sense of sanity and control over your Inbox. Hope you enjoy using it! Do you have any questions, comments, suggestions, praises, rants? We'd like to hear from you!
Microsoft, Outlook and the Office logo are trademarks or registered trademarks of Microsoft Corporation in the United States and/or other countries.