Bulk Create Multiple Outlook Folders¶
There are many cases when you might want to create several Outlook folders at once.
For example:
You use the same subfolder structure for all your projects or clients and you want to quickly setup a new project/client. Or many clients at the same time.
Create folders from a list in an Excel spreadsheet, a database or another data source.
Create a folder for each month of a year.
Share your folder structure with teammates.
Many more…
SimplyFile's Bulk Create Folders window can do just that.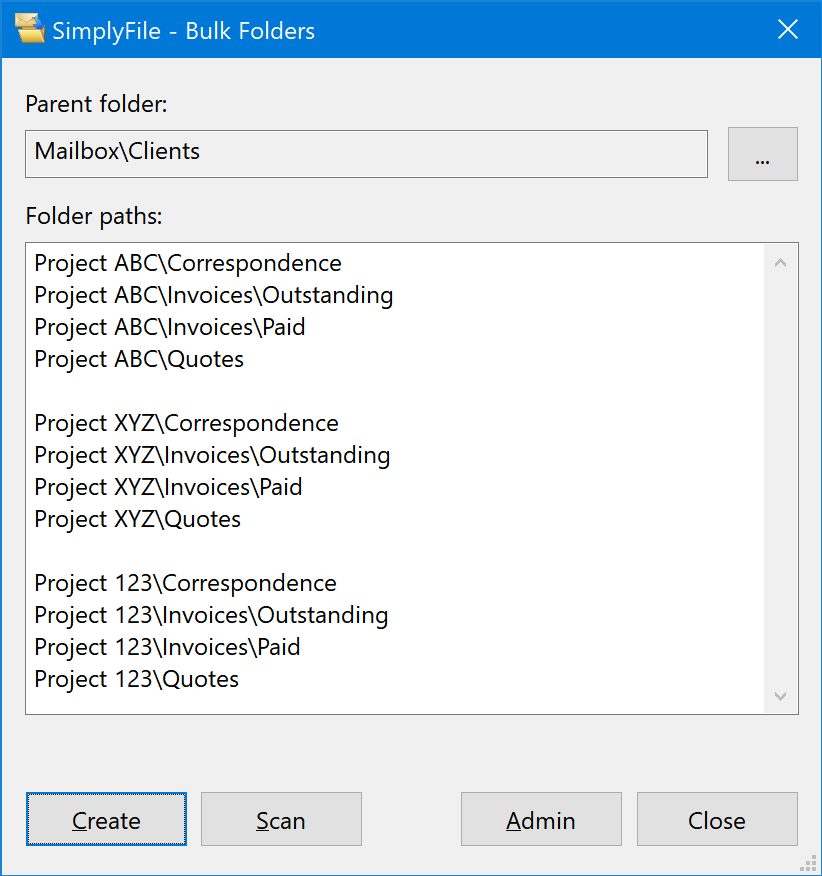 How to create folders¶
To create several folders and subfolders at the same time:
Create a list of folder and subfolder names in Excel or Notepad. Separate subfolders with back slashes.
Copy and paste it into the Bulk Folders window.
Hit the "Create Folders" button.
That is it, you can create an entire Outlook folder tree in one shot.
Automatically create folders for your end-users¶
As mentioned in the previous section, you can use this feature to automatically create new folders in your end-user mailboxes.
This is a great way to create folder structures based on projects or cases the users are working on. The list can even be customized on per-user basis.
Configuration steps:
Create a file with a list of folders to be created.
Configure SimplyFile to import that file on startup and auto-create folders.
This feature requires the Ultimate edition.
Sample lists for creating many Outlook folders in one operation¶
Here are a few samples to get you started. Do not hesitate to let us know if you have any questions about the best way to use these features in your environment.
Flat list without subfolders¶
Client subfolders:
Correspondence
Invoices
Quotes

Months of the year:
January
February
March
April
May
June
July
August
September
October
November
December

Folders with subfolders¶
Client subfolders:
Project ABC\Correspondence
Project ABC\Invoices\Outstanding
Project ABC\Invoices\Paid
Project ABC\Quotes

Project XYZ\Correspondence
Project XYZ\Invoices\Outstanding
Project XYZ\Invoices\Paid
Project XYZ\Quotes

Project 123\Correspondence
Project 123\Invoices\Outstanding
Project 123\Invoices\Paid
Project 123\Quotes

Months of the year for several years:
2020\January
2020\February
2020\March
2020\April
2020\May
2020\June
2020\July
2020\August
2020\September
2020\October
2020\November
2020\December

2021\January
2021\February
2021\March
2021\April
2021\May
2021\June
2021\July
2021\August
2021\September
2021\October
2021\November
2021\December